The Spring issue of WHQ is out now. The print magazine is on its way to subscribers and articles will be going online in the next few days.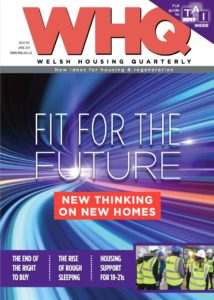 Supply is the key theme of this issue and a series of articles look at the different options for building not just more but also better homes in Wales.
The issue is published shortly before TAI. We feature a sneak preview of some of the conference sessions and for the first time also include the full conference timetable and exhibition guide.
The lead feature on supply by Ed Green looks to the needs of future as well as current generations. He argues that established methods of housebuilding are unlikely to deliver the homes
 we need but that alternative design approaches are already proving their worth.
Three years on from the ministerial supply taskforce that he chaired, Robin Staines assesses progress ahead of the target of 20,000 new affordable homes.
Mark Harris of the Home Builders Federation says current output is still woefully short of what's needed and argues that action is needed to reform planning and regulation and increase skills.
Within the overall target for affordable housing, Welsh Government is committed to a scheme for 1,000 Rent to Own Homes. Hayley MacNamara looks at how it might work.
Glen Peters of Western Solar detects a new appetite among housing providers to look beyond capital cost at the wider benefits to the community and the environment.
David Evans reports on Swansea's first steps towards building its first new council housing in a generation and we also feature more examples of what housing associations and local authorities are doing in Wales.
Also in this issue, and looking beyond Wales, Tamsin Stirling reports on the tiny house movement in the USA and her visit to a project in Detroit aimed at people who are homeless or on low incomes.
We also look at the rise in rough sleeping in Wales. Mia Rees analyses the reasons why and what needs to happen next and Sarah McGill explains Cardiff's No First Night Out strategy.
With all that plus our regular coverage of housing and regeneration in Wales to look forward to, now is a good time to subscribe to WHQ. Find out more details about subscribing here.