The Summer issue of WHQ is out now. Articles will be going online in the next few days and the print magazine is on its way to subscribers.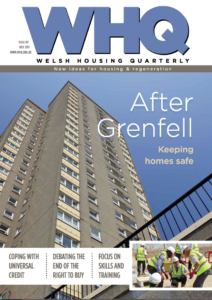 The cover story inevitably features the aftermath of the appalling fire at Grenfell Tower in London. We have articles by communities secretary Carl Sargeant on the response in Wales and by WHQ editor Jules Birch on the questions that need answers.
As more areas of Wales prepare for the introduction of the Full Service of Universal Credit, Jen Griffiths reports on the impact so far in Flintshire, the first part of the country to experience it.
WHQ's theme this time is skills and training and we kick off with a lead feature by Redrow CEO John Tutte on the need for concerted action to address skills shortages in housebuilding.
We focus on what social landlords are doing to deliver jobs and training around the country but also have a timely article from Keith Edwards and Jonathan Morris asked whether Wales is falling behind on community benefits and what we can do about it.
Elsewhere, Gainor Keeton of Mears explains the work of a project to increase the number of women working in social housing maintenance, Helen Taylor explores the role of a Housing Studies degree for housing practioners and Fflur Jones tries to make sense of the apprenticeship levy.
As the Assembly continues to deliberate on legislation to abolish the Right to Buy, Assembly members Rhianon Passmore and David Melding debate the case for and against.
With the Local Housing Allowance cap looming on the horizon, but still no detail from the Westminster government on how it will work, Paul Langley and Katie Dalton look at the likely impact on social and supported housing in Wales.
Nick Morris reports from its first national policy conference organised by Crisis for Wales and its vision of an end to homelessness in its 50th birthday year.
A year on from winning Rising Stars Cymru, Louise Kingdon argues that giving young people in housing a platform has never been so important.
Members of Housing Women Cymru pick up some tips from Sophie Howe including using things that make us mad, a touch of stubbornness and the utility of baby wipes.
Finally, Keith Edwards and Joy Kent share the findings of a review of new housing co-operatives in Wales and lessons learned from the six pioneer schemes.
With all that plus our regular coverage of housing and regeneration in Wales to look forward to, there has never been a better time to subscribe to WHQ. Find out more details about subscribing here.