POLICY DEVELOPMENTS IN OTHER PARTS OF THE UK
UK
Race to investigate 
Grenfell fire

The horrific fire in a tower block in London triggered action on multiple fronts in England and the rest of the UK.
As WHQ went to press, the police had confirmed 80 deaths in Grenfell Tower in Kensington, but that number was set to rise and local residents said the final death toll would be much higher. The police were investigating potential criminal offences including manslaughter and breaches of regulations and legislation.
An independent inquiry chaired by retired Appeal Court judge Sir Martin Moore-Bick was set to start its investigation of the causes of the fire and its rapid spread and work on recommendations to stop anything similar happening in future.
However, attention was already focusing on the aluminium cladding and insulation installed during the refurbishment of the tower and social landlords all over the country were sending in samples of their cladding for testing of its combustibility. As WHQ went to press, all of the samples tested in England had failed. Samples from seven blocks in Swansea and Newport had also failed but more comprehensive tests were underway and Swansea Council said its system had passed.
However, the focus was also moving beyond social housing to the private sector, student accommodation, hotels, schools and hospitals.
Many social landlords were also moving to install sprinklers in their blocks but it remained unclear whether central government would pay for
this work or for the replacement of cladding.
Concerns were also being raised about other elements of fire safety in tower blocks including fire doors, gas pipes and advice to tenants about staying in their homes.
England's Building Regulations and systems of building control and fire certification were also facing intense scrutiny.
Conservative election gamble backfires

Will the hung parliament at Westminster increase the chances of compromise on some UK-wide issues affecting housing?
That's one of the many questions raised by the failure of Theresa May's gamble that the snap election would give her an increased majority.
The Conservatives negotiated
an agreement with the 10 MPs from Northern Ireland's Democratic Unionist Party to ensure they had enough votes to pass a pared-down Queen's Speech and Budget yet to come.
The price was £1 billion in extra spending for Northern Ireland but that will not trigger any extra money for the rest of the UK under the Barnett Formula. Despite complaints from Scotland
and Wales, ministers argued that they
are already benefitting from City Deal spending that is outside Barnett.
However, the parliamentary arithmetic at Westminster raises
the prospects of u-turns on some controversial policies such as the cap on public sector pay.
And for housing it could mean more flexibility on policies such as the future funding of supported accommodation.
Two all-party select committees recommended a new Supported Housing Allowance as an alternative to the UK Government's plan to restrict housing benefit to Local Housing Allowance rates with a devolved top- up fund to cover additional costs.
Have your say on plan to end homelessness
Homelessness charity Crisis launched a major consultation to find out what's needed to end the worst forms of homelessness once and for all.
Running for six months across England, Scotland and Wales, the consultation invites people working in or with experience of homelessness and those working in related fields such as housing, criminal justice, education, welfare and health to share their expertise and help shape a national plan for action.
The consultation – Have Your Say
on a Plan to End Homelessness – forms part of Crisis's 50th anniversary year and aims to identify the practical solutions needed to prevent and end homelessness in Britain, particularly focusing on those groups in most immediate need of support, specifically those who are sleeping rough; sofa surfing; in emergency shelters and women's refuges; in hostels; squats; unsuitable non-residential buildings; or unsuitable temporary accommodation.
The resulting plan will be developed throughout the year and will be published in April 2018 with the aim of involving national and local government, charities and public services.
ENGLAND
Another new housing minister at Westminster
Within days of Alok Sharma becoming the sixth English housing minister
 in seven years and the 15th since 2000, the Grenfell Tower fire changed virtually everything about his brief.
The Reading West MP is a former junior minister at the Foreign Office and has little previous experience of housing apart from a record of opposing plans for new homes in his constituency. He pulled out of a planned speech on the last day of the Chartered Institute of Housing conference in Manchester.
The former housing minister, Gavin Barwell, lost his seat at the election but was appointed chief of staff to Theresa May. Along with other former ministers he faces questions about delays to
a promised review of the English Building Regulations.
Grenfell will be the dominant issue for Alok Sharma but his in-tray also includes the funding of supported housing, letting agent fees and whether to go ahead with the forced sale of council houses to fund an extension of the Right to Buy.
SCOTLAND
Bill to devolve benefits introduced

The Scottish Government published historic legislation to implement the partial devolution of social security from Westminster.
The Social Security (Scotland) Bill covers 11 benefits totally £2.9 billion in annual payments, including ill-health and disability benefits and carers allowance.
The most significant for housing are discretionary housing payments and some powers over Universal Credit, for example to split payments between household members.
Social security minister Jeane Freeman said: 'This is a significant moment for Scotland and for the history of devolution. It gives this Government and this Parliament the opportunity to make different choices – and shows that we can create a fairer and more just society when we take matters into our own hands.'
NORTHERN IRELAND
Social housing starts cut
The political impasse at Stormont will cut the amount of social housing built in Northern Ireland this year.
As WHQ went to press there was still no agreement on power sharing between the Democratic Unionists and Sinn Fein, meaning no devolved government could be formed.
The crisis meant that budgets were cut and delayed and the effects include a reduction in the number of new social homes to be started in 2017/18 from 2,000 to 1,750.
Nicola McCrudden, director of the Chartered Institute of Housing Northern Ireland, said: 'It is very disappointing that the target for the number of new social homes this year has been lowered – the reality being that 250 families
will have to wait longer for rehousing. The political stalemate has impacted
on budgets and plans, reducing funds available for new social housing and deferring important work that underpins housing policy.'
WELSH GOVERNMENT
Bills due on renter fees and regulatory reform

A ban on unfair fees to private renters and regulatory reform for social landlords are both included in Welsh Government's legislative priorities for 2017/18.
First minister Carwyn Jones said the government would introduce a Bill to stop landlords and estate agents from charging unfair, up-front fees to tenants and prospective tenants in the private rented sector.
He said increasing evidence shows the current fees – which can be as high as £700 – are a barrier to people looking to rent their own place and discourage people from moving home. The Bill will 'provide private renters with clarity about the costs involved and ensure the system is fair and sustainable'.
The government will also bring forward legislation in the next 12 months to reform regulatory controls for registered social landlords in Wales. This follows the reclassification of RLS as public sector in September 2016.
The first minister's statement explained: 'If not addressed, the change by ONS could restrict the development of new affordable social housing and restrict our own ability to fund other capital infrastructure projects. The Welsh Government's bill proposes to reform central and local government controls over RSLs, enabling the ONS to reconsider the reclassification and return them to the private sector'.
There will also be legislation to reform local government in Wales to 'establish a new relationship between the Welsh Government and local government, create greater transparency in decision making
and ensure greater collaboration through mandatory regional working arrangements'.
Welsh Government and housebuilders sign supply pact

Communities and children secretary Carl Sargeant launched a pact with the Home Builders Federation (HBF) and the Federation of Master Builders (FMB) to help boost the supply of market housing in Wales.
The pact sets out a number
of commitments for all parties
that would help deliver against housing targets. It builds on the House Builders' Engagement Programme established by the Welsh Government and the HBF in 2014. The FMB has been invited to join
the partnership to represent those building on a smaller scale.
Carl Sargeant said: 'This pact, developed in partnership with the Home Builders Federation, the Federation of Master Builders and their members, will help deliver on our commitment to increase housing supply.'
Stewart Basely, executive chairman of HBF said: 'Together we need to create an environment that allows the industry to invest in the land, people and supply chains required to increase output to meet the acute demand for housing.'
Consultation papers
Open consultation papers of interest to WHQ readers include:
Draft Supporting People programme guidance and outcomes framework – Responses by August 4
Implementation of sustainable drainage systems on new developments – Responses by August 11
Park home commission rate – Responses by August 17
Consultations are online at consultations.gov.wales
WALES
Pennaf secures £250m bond

The Pennaf Housing Group became the first housing services provider in Wales to secure a capital markets public sector bond.
The St Asaph-based housing association worked closely with specialist financial consultants to establish a new subsidiary – PenArian Housing Finance plc. This has attracted £250 million of investment from the capital markets through a public bond offer, enabling it to reduce operating costs, secure jobs, and ensure the long-term delivery of more high-quality affordable housing stock in years to come.
The Group plans to use £160 million to repay the
majority of existing bank funding and associated costs as well as provide funds to develop new homes within the communities where they currently operate. The remaining £90 million will be used as a funding facility to draw down for future development opportunities.
Pennaf Group chief executive, Graham Worthington described the successful bond offer as a 'major achievement that ensures a strong future for the Group' and as a 'blue-print to securing long-term provision to meet housing needs across North and Mid Wales.'
More Powys homes to be built from home-grown timber

Powys County Council has announced a policy to create local homes and jobs in Powys by using home-grown timber and supporting local manufacturing.
The council's Powys Wood Encouragement Policy, the first of
its kind in Wales and the UK, was launched at the Woodbuild Wales 2017 Conference and Expo in Llandrindod in June.
The policy sets out that all new council housing projects will look to use wood as the preferred material for both construction and fit-out purposes.
This pioneering approach has been developed as part of the Home Grown Home Partnership which was set up
to encourage forestry and product manufacturing, retain and create new jobs and build better, and more energy efficient houses.
Cllr Jonathan Wilkinson, Powys County Council's cabinet member for housing, said: 'The launch of the Wood Encouragement Policy highlights local timber as an important solution to building more homes and recognises the value of the forestry industry to the economy of Powys.'
The Home Grown Homes Partnership brings together Powys County Council's Housing and Regeneration Services, the Welsh Local Government Association, Community Housing Cymru, Natural Resources Wales along with local social housing providers Wales and West Housing Association, Grwp Cynefin, Mid-Wales Housing, Newydd Housing Group, Pobl Group, Pennaf Housing Group and Melin Homes.
This project has received funding through the Welsh Government Rural Communities – Rural Development Programme 2014-2020, which is funded by the European Agricultural Fund for Rural Development and the Welsh Government.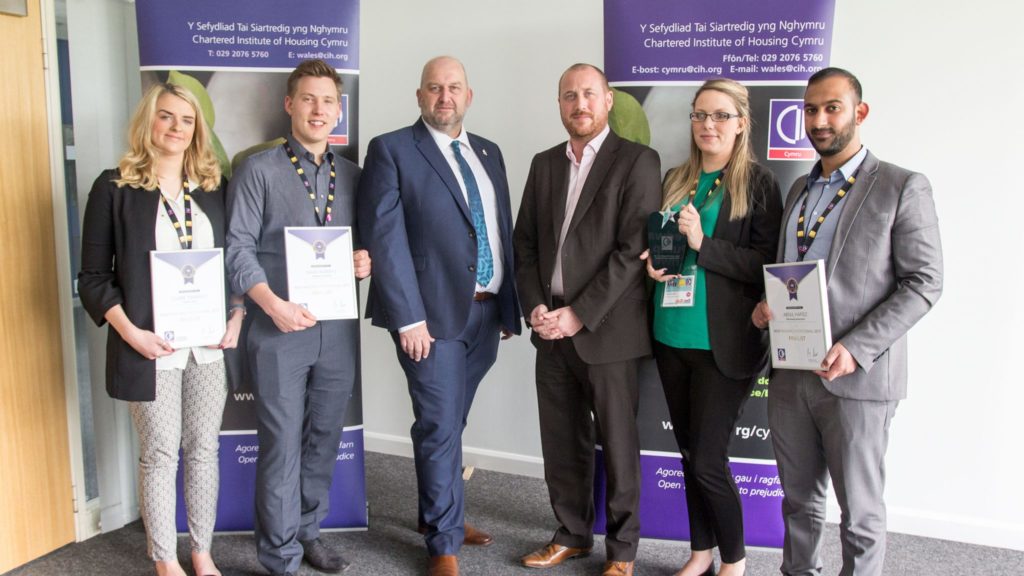 Katie Howells of Merthyr Valleys Homes (second right) won the first Chartered Institute of Housing (CIH) Cymru New Housing Professional award following a lively final at TAI 2017. The finalists were asked to write for the CIH website, host a workplace visit from a member of the judging panel and participate in video interviews outlining their thoughts on the future of housing in Wales, as well as presenting at CIH Cymru's annual conference. Pictured with Katie are the other finalists (L- R) Claire Twamley of Cartrefi Conwy, David Roberts of Newport City Homes and Abdul Hafeez of Taff Housing Association. Also pictured are cabinet secretary Carl Sargeant AM and director of CIH Cymru Matt Dicks.