New to the job is a feature where we meet people from across the sector who have taken on a new role. If you want to take part email [email protected]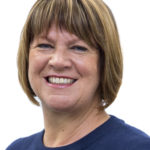 What is your name?
Michelle Thomas
Where do you work and what do you do?
Director of Development and Regeneration at Trivallis.
Why did you choose a career in housing?
Since the age of 17 I knew I wanted to work in housing. As part of my Geography A-Levels studies, I did a dissertation based on a housing estate in Wolverhampton. I reviewed a paper that had been written by the council about plans for physical regeneration on the estate then went to see the difference that the work had made to the area and interviewed the people that lived there. That inspired me to go on to do my degree in housing at Bristol Polytechnic.
What is the most important thing you have you learned since starting your career in housing?
As I've got older, I've learned that it's OK to challenge people and policies that you don't agree with as you may well be right! Sometimes the smallest voice can have the biggest impact.
What advice would you give someone applying for a job in housing?
So many people fall into housing and then find out what a varied and rewarding career it can be. You need to have an open mind and remember that what you're doing can make such a difference to peoples' lives. Care about what you do and just go for it!
Where would you be working, if not in housing?
The programme Time Team is my guilty pleasure so I'd love to be on that show as a landscape archaeologist, studying the ways in which people in the past constructed and used the environment around them.
What motivates you?
I am passionate about making a difference and knowing that, in my role, I can improve the lives of the people who live in the communities we work.
What do you do to relax?
There's nothing better than a long soak in the bath with a glass of wine, music and candles.

Proudest moment?
Family is so important to me. Watching my beautiful daughters Eleanor and Angharad sharing a laugh and a joke together makes me proud; they're nearly seven years apart in age but get on incredibly well and have become wonderful young women.
Most embarrassing moment?
I recently went on holiday with friends to Lanzarote. For a bit of a laugh, we went on an inflatable 'doughnut' in the sea. After the ride had finished, I was last off and couldn't seem to get my leg over the side. I ended up going into the sea head first with no grace whatsoever. What made it even worse was seeing everyone laughing at dinner that evening; someone had managed to get footage of the whole event on their phone!
What was the last film you watched and how did you rate it?
The Darkest Hour, starring Gary Oldman, is a gripping film about Winston Churchill in World War 2 and his leadership of the fight to defend our ideals, liberty and freedom. He was plotted against by his own party and had to contend with a very ill-equipped and unprepared country. That's a job I certainly wouldn't have wanted!